Here's an article from Rappler.com's correspondent, Shaira Panela on the West Valley Fault …  I have mentioned that in the past ( 3rd or 4th instance i have come across this concern about earthquakes in 15 years ), this somehow affects the real estate market for about three months after the news is out but somehow it's forgotten or just goes away.  The property values aren't affected and still continue to appreciate after it consolidates.  Makes we wonder if again or just maybe this issue is used to divert attention on more important issues or matters concerning —– ( you know what's on the front pages of the newspapers ) ???  I hope i am wrong but nevertheless, we're glad to have these reports as it's better safe than sorry.  And what a coincidence, the new movie, San Andreas just opened May 28th at the theaters.
A nice weekend to All …
How close are you to the West Valley Fault? Here's a site for that
A team of Filipino web developers have created Project Tremors, a website calculating how far a place is from the West Valley Fault …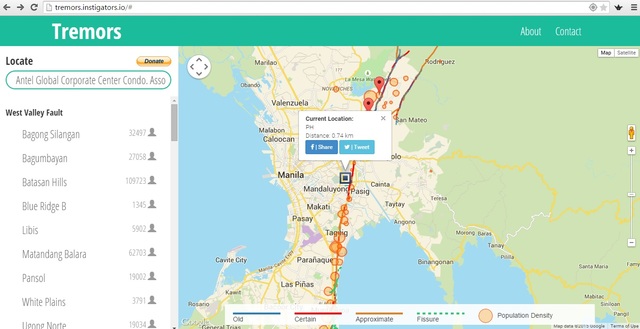 MANILA, Philippines – Are you ready for "The Big One?"
After the Philippine Institute of Volcanology and Seismology (PHIVOLCS) released its high-resolution maps on the Valley Fault System on May 18, web developers Dominic Tuazon, Louis Michael Concepcion, Mic Gutierrez, Kyle Abughanem, and Emmanuel Soriano – aka Team Instigators – created a website calculating how far one is from the West Valley Fault.
Project Tremors is as simple as searching on Google: key in your address in the search tab, and a list of related locations will appear. A line will appear showing the direction toward the fault line, together with a text box saying your location and the calculated distance from the fault.
Tuazon told Rappler that because all online resources he saw were about static images, data and tables, he saw an opportunity to make it interactive. "I wanted to create a site where it would be as easy as typing the people's address on a search box," he said.
The site, which also contains data on population density of different areas, eliminate the need for looking at long lists of maps and data tables. "People get more involved with something when they are able to relate it to themselves," said Gutierrez.
The 100-km West Valley Fault transects at least 57 residential villages and subdivisions. This fault generates big quakes every 400 to 600 years, according to PHIVOLCS. The last major quake occurred more than 3 centuries ago, in 1658. Within 50 years, another big quake might happen – also, within our lifetime.
While the Philippine laws indicate that buildings should not be within the 5-meter buffer zone from either side of the fault, not being near the fault line does not necessarily mean that one is free from the impact of a huge earthquake.
The last big quake that damaged parts of Metro Manila was the 1968 Casiguran earthquake. The magnitude 7.3-quake destroyed the 6-storey Ruby Tower in Binondo, Manila.
Reaching out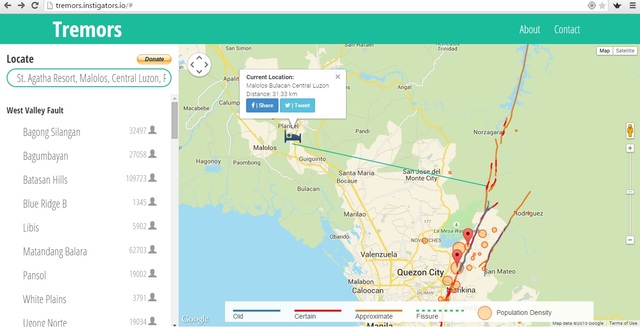 Tuazon, Concepcion, and Gutierrez are the original members of the team – the same group that won an international hackathon in Manila for their app "gamifying ecotourism." For Project Tremors, web developer Soriano and lead designer Abughanem, a sophomore at De La Salle-College of St. Benilde, joined them.
The team intends the site to be the go-to site for simplified earthquake hazard-related data, and they are also planning on including other features and information for the public.
Concepcion told Rappler that they are planning to reach local government units to provide them data on evacuation centers, police stations and hospitals.
They will plot these information on the map, together with features on safety tips and related news on earthquakes.
The idea is quite similar to Google Crisis Map. An initiative to provide crowdsourced information and plot it on Google Maps. During the onset of Typhoon Yolanda (Haiyan) in 2013, among the information laid out on the map are evacuation centers, relief centers and command posts, the path of the cyclone, and the extent of the affected areas.
"Ultimately, our objective is to raise awareness on the matter, and urge people and governments to take proactive measures for 'The Big One,'" said Gutierrez. – Rappler.com